The Biogas Association of Ghana is an umbrella network of companies, practitioners, researchers, CSOs, NGOs, Artisanal Associations and International Development Organisations promoting anaerobic Digestion as a preferred solution for sustainable waste management, energy, agriculture and climate change mitigation.
The Association operates through advocacy, representation, capacity building, knowledge sharing, awareness creation and promotion of the anaerobic digestion technology for increased adoption and improved environment in Ghana.
The idea of an association to represent firms, institutions and individuals involved in any form of the applications of Biogas Technology in Ghana was initiated at a meeting of actors in the biogas sector which was organised by Ghana National Cleaner Production Centre (GNCPC), the Environmental Protection Agency (EPA) and the Energy Commission in July, 2016 in Accra. In the meeting, members elected an Interim Committee which was tasked to lead the formalization of the Biogas association of Ghana.
The Association was formally launched in June 2016 and first elected executives selected.
Since then the Association has been significant in improving advocacy and creating awareness on the biogas technology at both national and international platforms.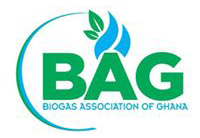 Meet our leadership team.